100% NATURAL
Melatonin & Valerian extracts



EASY TO USE
Simply peel,stick & Sleep
BENEFITS
Patch Up & Bid Goodbye To Sleepless Nights
Fall Asleep

Stay Asleep

Wake Up Refreshed


Feel Rested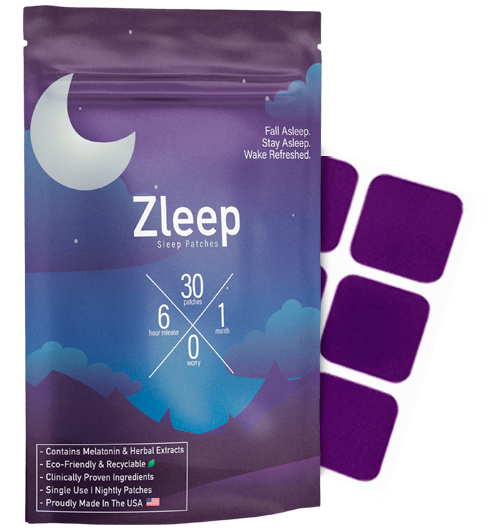 INGREDIENTS
All Natural & Clinically Proven Ingredients
Melatonin
A naturally occurring hormone that may help support a healthy sleep cycle.
Chamomile
Induces a calming effect and helps you fall asleep faster and stay asleep for longer.


Ashwaganda
Help reduce anxiety and support deep relaxation to help you fall asleep faster.
Valerian Root
A herbal extract that has been known to reduce anxiety and help sleep depravation


L-Theanine
An amino acid that may help lower stress levels and improve sleep quality & duration.
50% OFF
PROMOTION

FREE SHIPPING
MONEY BACK
GUARANTEE
SAFE & SECURE
CHECKOUT
HOW TO USE
3 Simple Steps To A Restful Night Of Sleep
1
PEEL OFF
Zleep patches are adhered to a protective film to ensure maximum efficacy & freshness until use. Just peel it and get ready.
2
STICK ON
Next, stick the Zleep patch to a clean & preferably hairless part of the body such as shoulders, inner forearms, stomach, upper thighs.
3
LIGHTS OUT
Let Zleep's sleep-ingredient layer release the formula overnight into the body to help you fall asleep faster, stay asleep longer & wake up refreshed.
TIME TO MAKE A HEALTHY & SAFE SWITCH
| | | |
| --- | --- | --- |
| | | Sleep Pills |
| | All Natural Ingredients | |
| 3-5 Minutes | Reaction Time | 4-5 Hours |
| 65% | Absorption Rate | 15% |
| Standard | Ease of Dosage | Variable |
| | Non-Habit Forming | |
| | Side Effects | |
Time Release & All-Night Sleep Assist Technology
Zleep patches include a blend of sleep enhancing ingredients that are delivered directly into the bloodstream through skin pores via transdermal technology. Zleep takes advantage of the time-release process to ensure that ingredients are continually delivered to the body, alleviating anxiety, calming your nerves, and ultimately, allowing you to fall into a deep, restful sleep.
Formula Layer
Includes the sleep ingredient matrix and is designed to release nutrients through the night, up to 8 hours.
Contact Layer
This layer includes an all-natural adhesive makes it safe for your skin, allowing the patch to be worn anywhere on the body & stay in place through the night.
Backing Layer
Soft foam layer provides the structural support that the transdermal patch needs to stay in place all night long
What Do Zleep Users Say?
Real Zleepers Experience
Stronger Sleep Patterns/Quality

For the first time in forever, I have control of my sleep again. I've become more active in the mornings, wake up feeling refreshed and ready to conquer the day.

- Matt C.
Finally! 8 hours of sleep!

After trying products for years, I've finally found one that works! Zleep has gotten me back to sleeping 8 hours per night and being energized the next day.

- John M.
Great Product!

As someone who's always been a night owl and stayed up way too late, I was always tired waking up. A friend recommended Zleep and it's done absolute wonders in helping me maintain a healthy sleep schedule.

- Steven
Love this!

After struggling with restless nights due to the current state of the world I was turned onto Zleep by a friend. Cannot thank them enough... Back to getting 7-8hrs of great sleep and waking up feeling energized!

- Billy
Incredible How Fast I Fall Asleep!

I've tried it all - Zleep is hands down the best natural remedy for falling asleep and staying asleep.

- JN
This product really worked

These sleep patches really seemed to work well. I went to sleep much faster than I had been. They attach easily & don't leave a sticky residue. I changed places each night where I placed them. Would buy them again.

- Tina K.
GOODBYE TO SLEEPLESS NIGHTS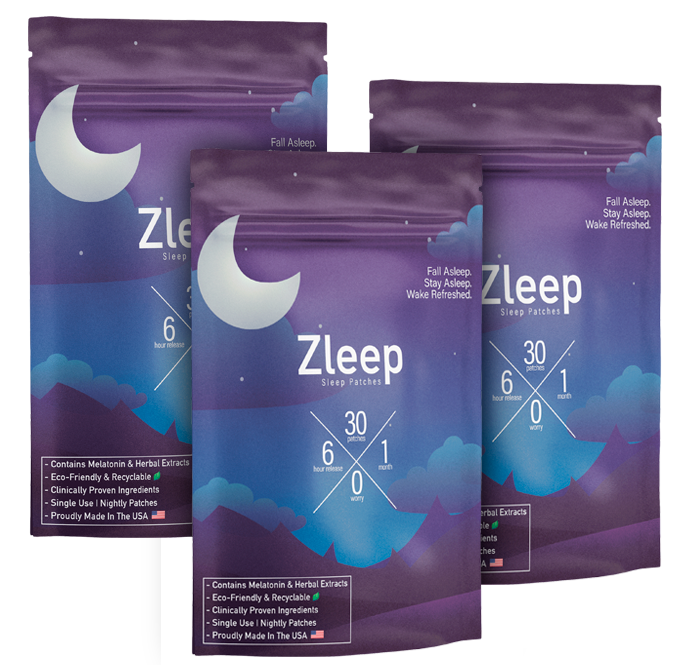 Zleep All-Natural Sleeping Patches (3-Pack, Save 25%)

1753 Reviews
Fall Asleep, Stay Asleep, Wake Up Refreshed
Order Now
Get up to 40% off when you purchase today